Learn More
Greater Access to Clean Energy Improvements
The Green Energy Market Securitization Program (GEMS) is an innovative, sustainable green financing initiative designed by the Hawaii State Energy Office to make clean energy improvements more affordable and accessible for Hawaii consumers.  The program provides low-cost capital to finance solar photovoltaic systems and other clean energy improvements for those who may otherwise have difficulty obtaining financing for these projects. Low-credit homeowners and renters, as well as nonprofits and small businesses are among those who will qualify for project financing through GEMS.
Ultimately, GEMS has the ability to finance the installation of over 44 MWs of energy, assisting as many as 30,000  Hawaii consumers, greatly reducing their energy expenses and advancing Hawaii's aggressive clean energy mandates.
GEMS is a Financing Program, Not a Rebate Program
GEMS utilizes two, unique financing structures to provide low- cost financing that enables consumers to invest in clean energy installations.
The first is a rate reduction bond structure to capitalize the program. GEMS is the premier example of rate reduction bonds used to finance residential and commercial clean energy infrastructure. On-bill repayment will be the second financing structure used by GEMS. Borrowers pay for energy-saving devices made over time through their electricity bill and their energy savings. This financing tool, developed in partnership with the Public Utilities Commission and the investor owned utility, enables the program to lend to riskier borrowers while also mitigating associated risk.
Together, these financing structures allow GEMS to be more inclusive and self-sustaining.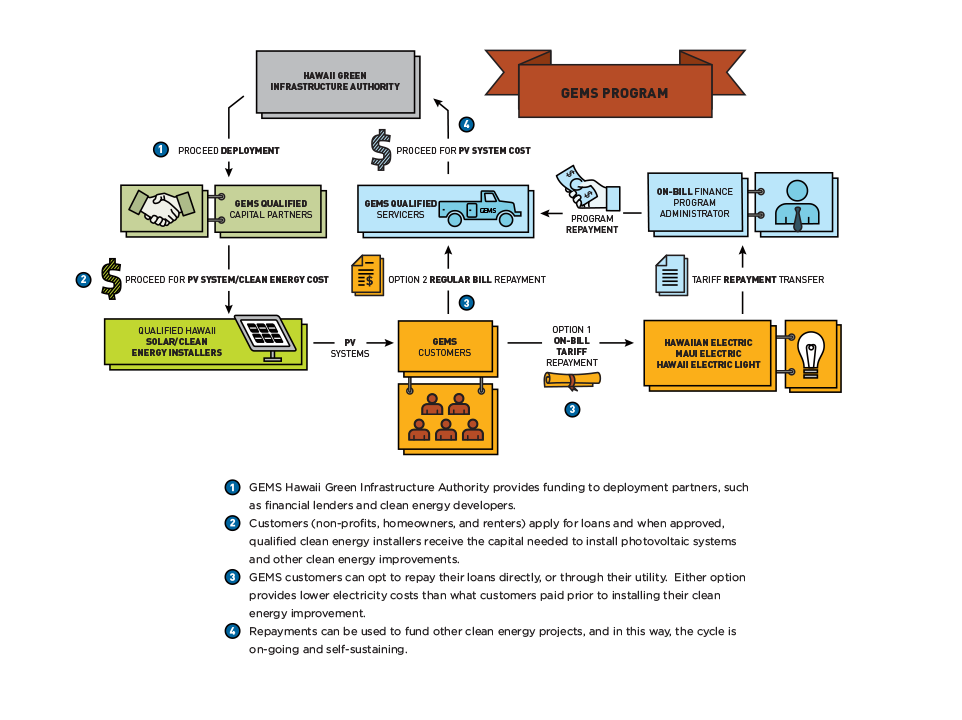 What is the Green Infrastructure Fee?

A majority of residential utility customers will see virtually no impact on their bills as the result of a green infrastructure fee being collected to support the Green Energy Market Securitization (GEMS) program. In most cases, the flat $1.29 per month green infrastructure fee will be offset by a reduction in a separate public benefits fund ("PBF") surcharge already paid by utility customers to support energy efficiency programs.  The PBF surcharge currently amounts to about $4.55 for a typical residential utility customer using 600 kWh of electricity a month.
The new GEMS program leverages the existing public benefits fund that ratepayers have contributed to since 2008 to support energy efficiency programs that benefit the entire state. The green infrastructure fee, which began appearing on the December 2014 utility bills, is accompanied by a reduction to the PBF surcharge to limit the overall impact to customers. With the reduction to the PBF surcharge, PBF collections from all customers, is reduced by the amount collected by through the Green Infrastructure Fee.
Because the PBF surcharge is based on the amount of electricity purchased from the utility it decreases as utility customers buy less power. Customers who have either reduced or zeroed out their electric bills with PV panels under the utility's Net Energy Metering (NEM) program pay a lower PBF surcharge, or in some cases, no surcharge at all. As a result, the amount of their PBF surcharge may not be sufficient to completely offset the green infrastructure fee.  About 10 percent of utility customers participate in the NEM program.